The Sandman Will Keep You Awake - The Loop
Play Sound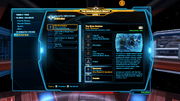 This article discusses the SW:TOR in-game system that measures the Reputation that a character has with the various Factions within the game world. This feature was added with release 1.7.
Overview
Reputation is earned by collecting and consuming one of three types of token or trophy (green, blue, purple), each with a different base value associated to it. Once the consumable is used, the granted points will be applied to your legacy's Reputation meter for whichever faction was associated with the given trophy.
As points are collected, players will gain new ranks associated with that faction. There is a weekly cap for gaining reputation points for all factions, though this restriction is on a per-character basis (for those players with more than one character in a legacy) and is not shared between all characters in a legacy.
All factions begin at the Outsider rank and once players have collected enough points they will reach legend status, the highest achievable rank with any faction. Once this rank is reached, players will no longer be able to unlock reputation trophies they collect. Trophies cannot be sold or traded to other users but can be sold to vendors.
Tokens can be earned through a variety of different means, including completing daily and weekly missions of variable types, digging up reputation trophies with your Seeker Droid and finding reputation trophies in specific Cartel Packs.
Factions
Bounty Supply Company

Citizens of Makeb

/Makeb Imperial Forces

The Contraband Resale Corporation

Imperial First Mobile Fleet/Republic Hyperspace Armada

Imperial Forward Command/Republic First Fleet
Imperial Guard of Belsavis/Republic Fifth Assault Battalion
Interplanetary Component Exchange
Ordnance Acquisitions Corps/The Adjudicators
The Dread Executioners/Strike Team Oricon

The Voss

T.H.O.R.N. (The Hyland Organization for Rakghoul Neutralization)
Ranks
The following table illustrates each of the seven ranks associated with any reputation faction and how many points are required to unlock each new rank, as well as the cumulative point totals as you progress through each rank:
| Reputation Rank | Points Required | Total Points |
| --- | --- | --- |
| None | 0 | 0 |
| Outsider | 2500 | 2500 |
| Newcomer | 5000 | 7500 |
| Friend | 7500 | 15000 |
| Hero | 10000 | 25000 |
| Champion | 15000 | 40000 |
| Legend | 30000 | 70000 |
Reputation Titles
Each different reputation faction rewards players who progress past certain ranks with a legacy title that they can display on their character. Depending on the faction, players can earn either two or three different titles associated with that faction.
The following is a list of the factions, ranks and titles associated with them:
| Rank/Faction | Bounty Brokers Association | Bounty Supply Company | Citizens Of Makeb (Republic) | Coalition Forces on Yavin 4 | Contraband Resale Corporation | Galactic Solutions Industries | Imperial First Mobile Fleet (Imperial) | Imperial Forces on Iokath | Imperial Forward Command (Imperial) | Imperial Guard of Belsavis (Imperial) | Interplanetary Component Exchange | Makeb Imperial Forces (Imperial) | Ordnance Acquisition Corps (Imperial) | People of Rishi | Republic Fifth Assault Battalion (Republic) | Republic First Fleet (Republic) | Republic Forces on Iokath | Republic Hyperspace Armada (Republic) | Strike Team Oricon (Republic) | T.H.O.R.N (The Hyland Organization for Rakghoul Neutralization) | The Adjudicators (Republic) | The Dread Executioners (Imperial) | The Gree Enclave | The Voss |
| --- | --- | --- | --- | --- | --- | --- | --- | --- | --- | --- | --- | --- | --- | --- | --- | --- | --- | --- | --- | --- | --- | --- | --- | --- |
| None | N/A | N/A | N/A | N/A | N/A | N/A | N/A | N/A | N/A | N/A | N/A | N/A | N/A | N/A | N/A | N/A | N/A | N/A | N/A | N/A | N/A | N/A | N/A | N/A |
| Outsider | N/A | N/A | N/A | N/A | N/A | N/A | N/A | N/A | N/A | N/A | N/A | N/A | N/A | N/A | N/A | N/A | N/A | N/A | N/A | N/A | N/A | N/A | N/A | N/A |
| Newcomer | N/A | N/A | N/A | N/A | N/A | N/A | N/A | N/A | N/A | N/A | N/A | N/A | N/A | N/A | N/A | N/A | N/A | N/A | N/A | First Responder | N/A | N/A | Gree Research Assistant | N/A |
| Friend | For Hire | Licensed To Hunt | Honored Protector | The Unifier | Discerning Customer | N/A | N/A | Iokath Monitor | Drive Yards Demolisher | N/A | Troubleshooter | Imperial Infiltrator | Czerka Investigator | Raider of the Cove | N/A | Defender of Kuat | Iokath Purifier | N/A | The Fearless | N/A | Czerka Investigator | The Fearless | N/A | Honored Voss-Friend |
| Hero | N/A | N/A | N/A | N/A | N/A | GSI Preferred Contractor | Hero Of Deep Space | N/A | N/A | Hero Of Section X | N/A | N/A | N/A | N/A | Hero Of Section X | N/A | N/A | Hero Of Deep Space | N/A | THORN Specialist | N/A | N/A | Honored Silver Acute | N/A |
| Champion | N/A | N/A | N/A | N/A | N/A | N/A | N/A | N/A | N/A | N/A | N/A | N/A | N/A | N/A | N/A | N/A | N/A | N/A | N/A | N/A | N/A | N/A | N/A | N/A |
| Legend | The Professional | Armed And Dangerous | Guardian Of Makeb | Ravensbane | Contraband Connoisseur | GSI Most Valued Partner | Hyperspace Legend | Conquerer of the Sphere | Imperial Forward Commander | The Section Guardian | Fixer | Terror Of Makeb | Titan Of Industry | The Notorious Pirate | The Section Guardian | Honorary Admiral | Champion of the Expanse | Hyperspace Legend | Dread War Veteran | The Neutralizer | Titan Of Industry | Dread Executioner | Perfect Gold Bisector | The Chosen Of Voss |